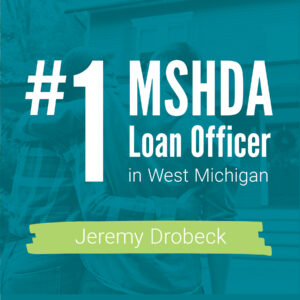 Jeremy Drobeck with Treadstone Mortgage has recently been recognized by the State of Michigan as the number one MSHDA loan officer in West Michigan.  With years of experience and a dedication to helping his clients achieve their dreams of homeownership, Drobeck has earned a reputation as a trusted and reliable mortgage lender.
MSHDA, or the Michigan State Housing Development Authority, is a state agency that provides affordable housing options for Michigan residents. MSHDA offers a variety of loan programs to help first-time homebuyers, veterans, and low-income families purchase homes.  Learn More About MSHDA programs.
As the number one MSHDA lender in West Michigan, Drobeck has helped countless clients navigate the complex world of mortgage lending and secure financing for their dream homes. He has a deep understanding of the MSHDA loan programs and works closely with his clients to determine which loan option is best for their unique situation.  One of the keys to Drobeck's success as a lender is his commitment to providing personalized service to each of his clients. He takes the time to get to know his clients and their financial goals, and he works closely with them throughout the entire lending process to ensure that they understand their options and feel confident in their decisions.
As West Michigan's top MSHDA lender, Drobeck is poised to continue helping families achieve their dreams of homeownership for years to come. Whether you're a first-time homebuyer or a move up buyer, Jeremy Drobeck with Treadstone Mortgage is the lender you can trust to help you achieve your financial goals.